DAY 4 - EPCOT
Took the bus to Magic Kingdom, then the monorail to EPCOT. It was my only monorail ride of the trip. One miscalculation I made was not dressing properly for the unseasonably cold weather. Other than the view,
the monorail ride was a chilly ordeal, but it did make a big loop right through EPCOT
before arriving at the station, affording me a bird's eye view of the park.
I had purchased a hooded sweatshirt the night before from Everything Pop but it did little to keep me warm. I ended up having to buy a second, this one EPCOT themed, to keep me warm.
Later, I returned the first one, explaining it had not kept me warm. Upon arriving, I bought a much needed coffee from a Joffrey stand, which helped to make me feel a bit warmer. After a short wait they began letting people in, and seeing no line at Spaceship Earth I walked onto the attraction. It is a great ride, especially the future section. Like all attractions, it is full of far too much detail to see during only one viewing.
I then made my way to Test Track for my first fast pass. The wait was not a long one and I was soon designing a car. I found this aspect of the attraction to be somewhat boring, but soon I was ushered into a ride vehicle for the main event. What a thrill! It was everything I expected and more.

Mission: Space was next. I chose the Orange option and was not disappointed.
Everyone in our capsule was a newbie to the ride, and an intense ride it was! I rode it twice. I can see why people might react badly to it. At points during the ride even holding my arms up required extra effort. It is not a ride for the faint of heart.
Club Cool featured the dreaded Beverly, which is indeed hideous stuff, fit only for Heffalumps and Woozles. Watching peoples faces as they tasted it was pretty darn funny.

The Seas with Nemo was a disappointment, a basic dark ride, but Turtle Talk with Crush was very funny. Whoever does his voice must be very quick on the ball to respond to the questions! I regret doing this only once. Duuuuuuude!
Living with the Land was next. I can see how this ride would bore a child or uninterested teen but I found it interesting and educational. It was also the only time during the vacation that I saw alligators, even though they were little ones. I somehow missed seeing the giant lemons.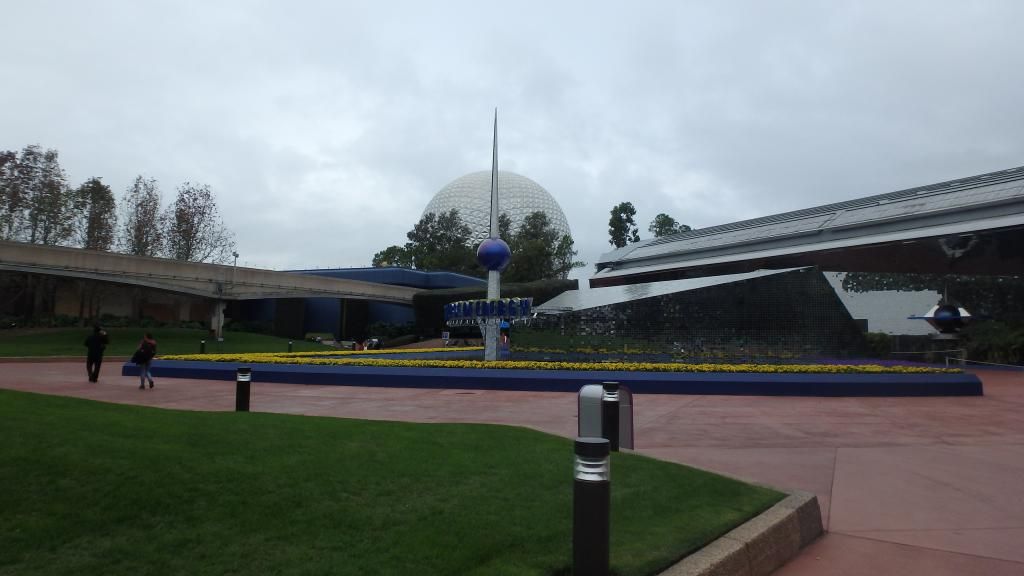 By this time it was definitely time for a nosh, so I had a breakfast platter at Sunshine Seasons, having heard good things about it. It was a huge meal which I could not finish.

Journey into Imagination was great! I quickly came to love Figment and in the gift shop I found a little plush of him. I can see why it is a classic.
Character Spot, thanks to fast pass, had a short wait to see Minnie, Mickey, and Goofy.
I had, by this time, decided to try and get as many photos and autographs of characters as I could and EPCOT has a lot of characters! I found Duffy on my way to World Showcase too. He had no wait at all.
In Mexico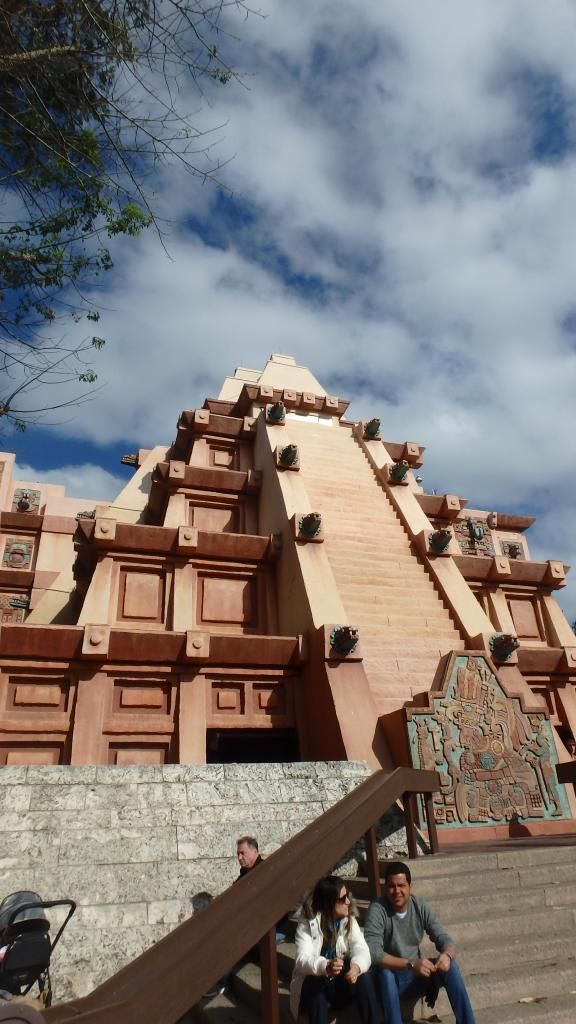 I found Gran Fiesta Tour, which I found to be similar to Small World and quite enjoyable. I found a very cool hand-painted plate there too, as well as a hand-carved little squirrel,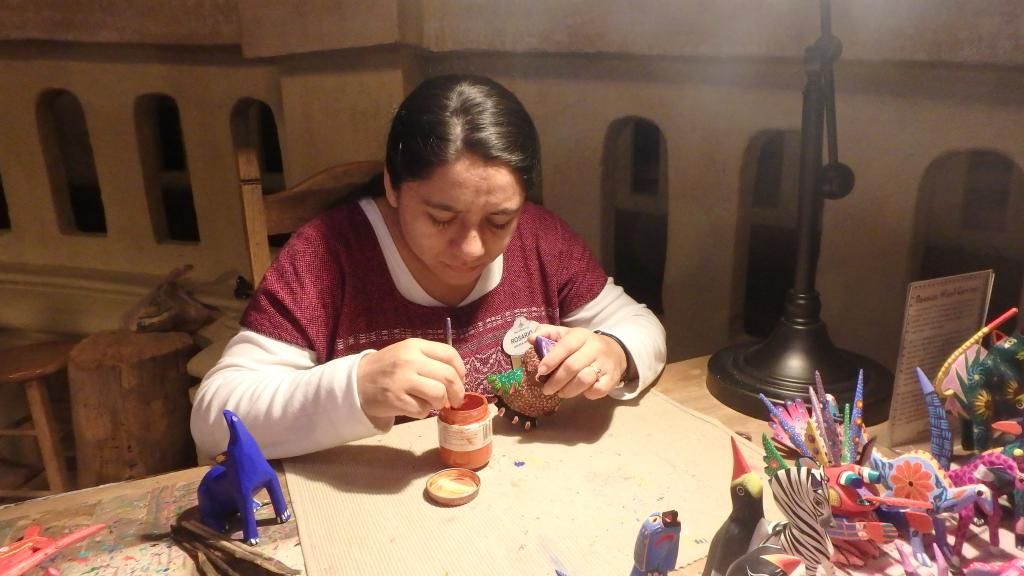 both of which I had delivered to the resort. Outside I saw Mexican Donald and had only a short wait to see him.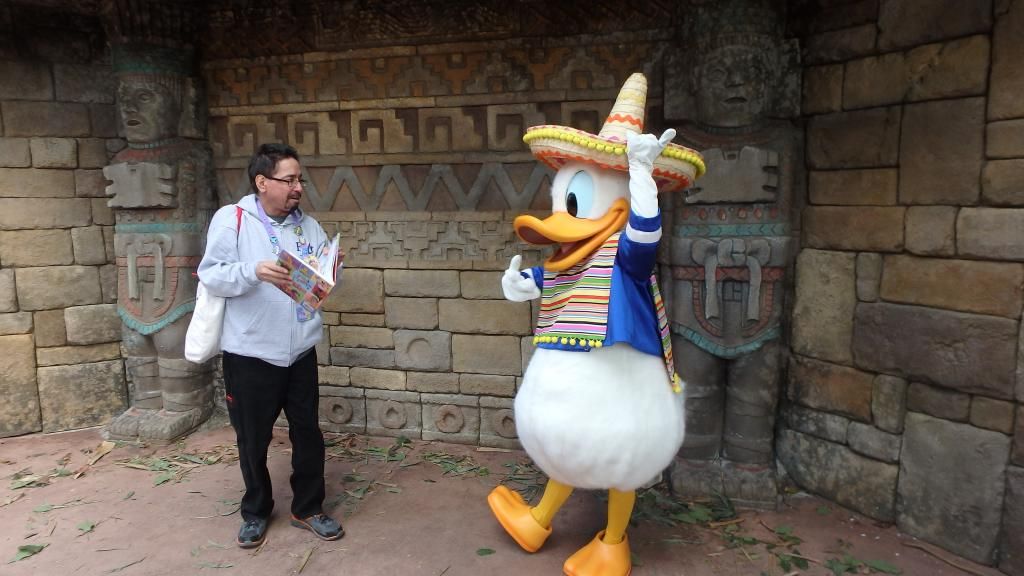 In Norway I found the big troll in a gift shop and a fellow friendly guest was happy to take my picture next to it.
I had school bread too, which was awesome, as good as everyone says it is.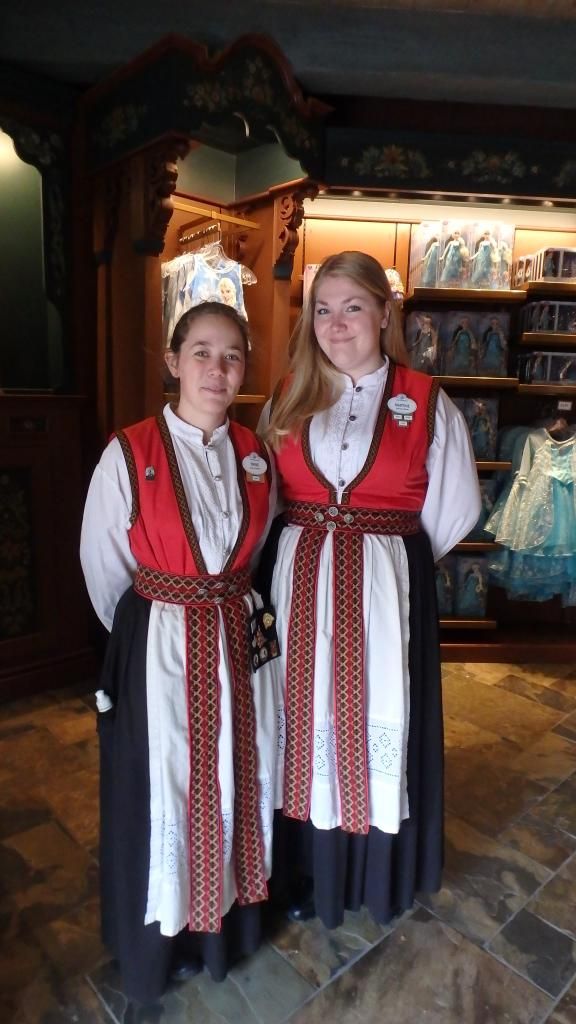 China
featured an exhibit showcasing the famed terracotta warriors which I got some quick photos of before waiting in line to see Mulan. She was friendly. I asked her about Mushu.
In Germany I found Snow White who fortunately did not have a terribly long line. While meeting her I asked her where Grumpy, Happy, Sleepy, Sneezy, Bashful, and Dopey were. She said, "What about Doc?" I answered, "Oh, I don't need to see him, I'm not sick!"

My cast member friend was at The American Adventure gift shop working as a greeter. The store was quiet so she had a bit of time to introduce me to her fellow cast members. An interesting coincidence; I learned that we had both been members of the same drum & bugle corps in our youth, but during different years. It really is a small world after all!
Off to France to find Aurora,
followed by an amazing open faced grilled sandwich at Les Halles which looked small but was filling, and two types of pastries, a beignet and a napoleon. The beignet did not impress me. The napoleon was difficult to finish, but I took one for the team.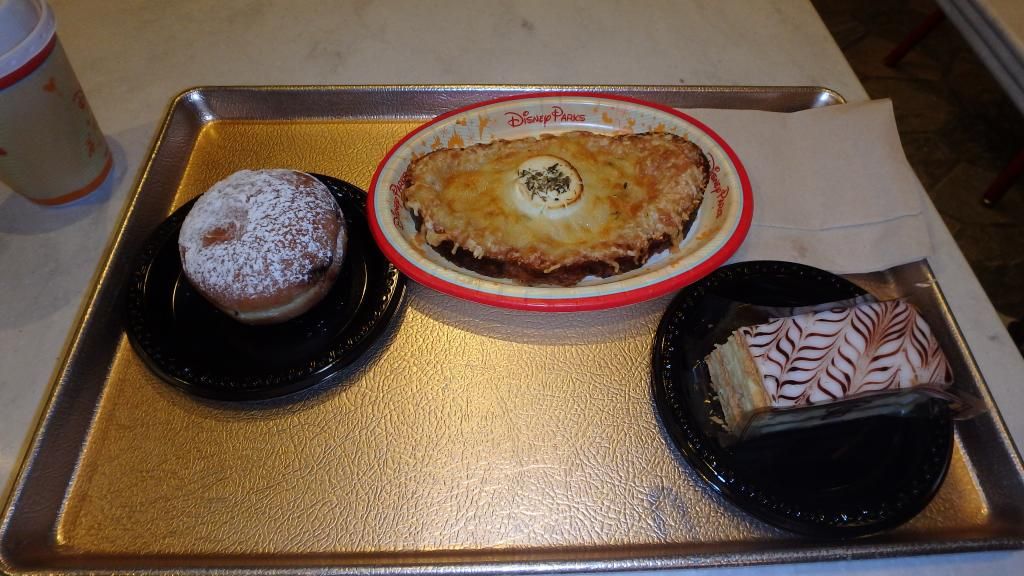 I made a quick pilgrimage to the Canadian pavilion, but IllumiNations was coming up soon and so I made it back to the American Adventure to say goodnight to my CM friend. On the way, some amazing music began to play loudly. It was so loud and full of energy, it had me dancing along the way, which had one cast member tell me I should audition for Disney entertainment, after he saw my attempt at Irish Dancing! I later looked for but could not find a CD of this music. It was really awesome and LOUD. My CM friend told me of a nice spot near Germany to watch IllumiNations, so there I headed after finding a coffee at a kiosk.
IllumiNations is a triumph of Disney Magic. Lasers, water, flames, fireworks, and the Earth Globe combine with music and lighting to create a spectacular show that is unforgettable. My CM friend found me as the show ended and we walked out of the park together, talking about my day. We planned on meeting up together again on Sunday.
Things about EPCOT: It is big, really big, especially World Showcase. I only saw a fraction of World showcase during my one and a half days there. The only show I got to see was the American Adventure, which had incredible animatronics, so very life-like.
I bet you could easily buy at least one item in every nations gift shop. I saw so many cool things at the few places I did see. Meeting Cast Members from those countries was nice too. They were quick to strike up a conversation.
Upon arriving back at Pop, Dawn and I enjoyed a nice meal together and I told her of my adventures. On an unrelated note, there are a LOT of Disney channels on the TV!