I decided to write up a quick trip report for my solo Disneyland trip last weekend for a couple reasons: A) In case anyone is planning a Disneyland trip soon and wants to get a feel for it; B) If anyone is planning or thinking about a solo trip...I want to encourage you to DO IT!; and C) Because I love reading trip reports for any Disney park and hopefully I'm not the only one! (although WDW trip reports are still my fave)
Day 1: Friday
After my work conference ended in LA around 1:00, I started off by renting a car at LAX and driving through the wonderful traffic to Anaheim where I checked into the Hotel Indigo (where I stayed for free using reward points). I was told immediately that they were upgrading me to a suite...woohoo! When they asked what brought me to town I told them that it was my birthday weekend and I decided to take advantage of a business trip and turn it into a Disneyland trip! I was settling into my room when I heard a knock on my door. The hotel management brought me a nice goodie bag with treats and drinks for my birthday...so nice! (no alcohol, so don't get too excited!) And they also said that a package had been delivered for me. What?! I wasn't expecting a package. So I opened it up and it just made my day...it was a musical Tangled birthday card and Disney gift card from Megan!! I do not deserve such a thoughtful sister, honestly (I cried, of course!). My day was already magical and I hadn't even set foot in Disneyland!
So I made a couple calls (to Meg to thank her and chat a bit and to my mom to wish HER a happy birthday). Then I changed, got my things together, and walked about 3 blocks to the Disneyland gate. Not a bad walk at all, especially on such a beautiful day. I had waited to redeem some Disney Visa points until it was too late to get them mailed to me, so I had to go to the ticket counter and take care of it there. The process wasn't too bad, but I was itching to get into the park! I got a 2-Day Park Hopper, based on some of your suggestions and it turned out to be the perfect choice. I didn't make it in until 6:00, so I was nervous I would barely scratch the surface. I had a plan though! So off I went into California Adventure...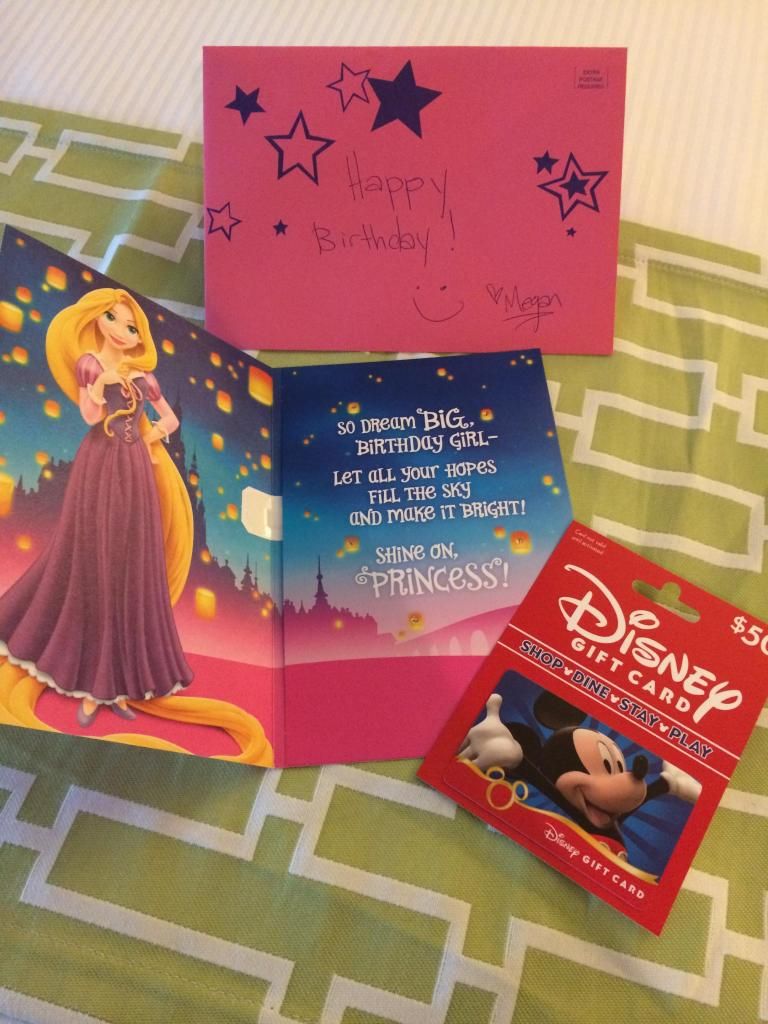 I walked through the gates, taking my time to convince myself that, yes...I am actually here! The main street is Buena Vista Street, which has beautiful Art Deco details and there are cute shops and festive music playing. After stopping to watch a wonderful street jazz band, the Five and Dime, I found myself in front of the Cars Land sign. I knew I wanted to ride Radiator Springs Racers, so that was my first real stop. I got in the single riders line and only waited about 15 minutes! That blew my mind. The ride was super fun and a quick favorite...I knew would come back for seconds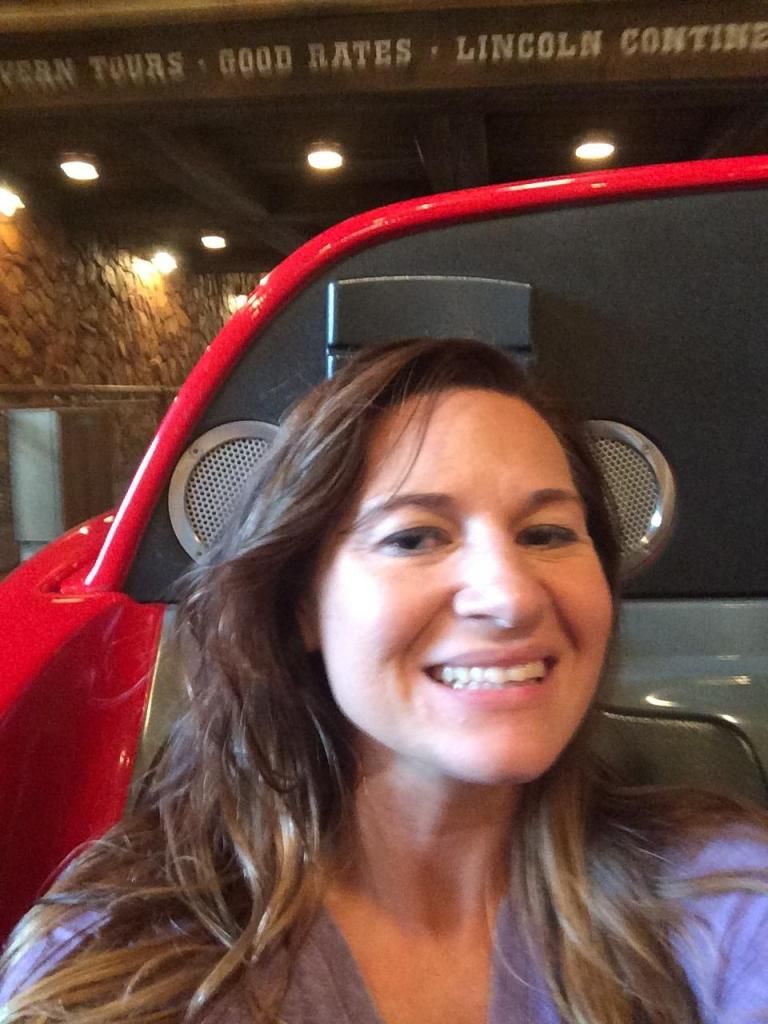 After the ride, my hair was very windblown!!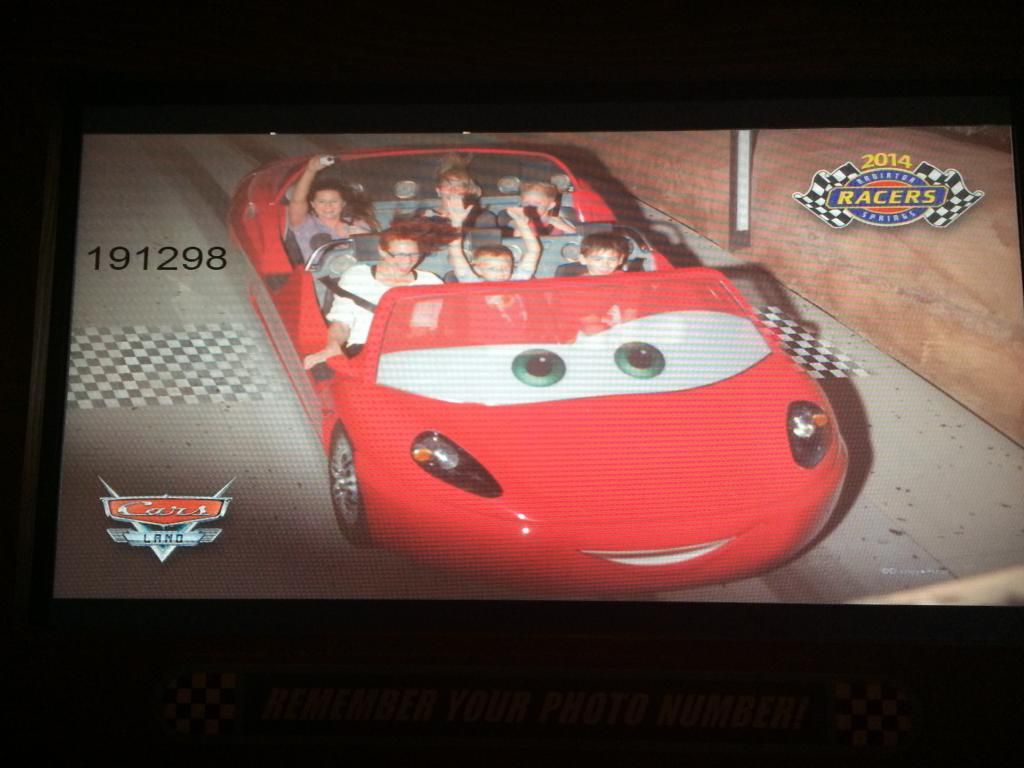 I wandered around Cars Land for a bit, checking out the immersive theming and then over to Paradise Pier. I loved the theming here!! It reminded me of the Boardwalk area near Epcot
The Little Mermaid ride was next and I just walked right on!
*A quick tip if you are planning a Disneyland trip...I downloaded an app called MouseWait. It estimates the wait times at all Disneyland and CA Adventure rides and restaurants. I found it to be pretty accurate and it prevented me from wasting excess time and energy (all that walking!).
So next I was on to Mickey's Fun Wheel and Toy Story Mania. TSM was the longest wait of the day at about 25 minutes...not bad! After strolling the rest of the pier and looking in some of the shops, I went over to Grizzly River Run. I saw that there was no line, and also noticed a kiosk for the World of Color FP. I couldn't believe they were still available! So I grabbed a FP and walked onto GRR with zero wait. I loved this ride so much! Reason #1, I brought a poncho specifically for this ride, so I didn't get too wet; Reason #2 (and more importantly), I was joined by a really fun group in my raft! They were just as excited as I was, even though they had each ridden the rapids dozens of times to my zero
It was great fun with just enough twists, turns, and splashes to keep you guessing and wanting more!! Then it was time for Soarin' Over California. Thank goodness once again for the single rider line! It seemed to me to be exactly the same as Soarin' in Epcot, so nothing new to me, but still a great ride. As I was exiting, I heard some heavy bass music and saw flashing lights in the distance, so I went to explore. It turned out to be the Mad T Party! It was a hip hop dance party and a really fun surprise! After dancing a bit (mostly head-bobbing and watching the great dancers on stage!), I walked around the corner to the Monsters Inc ride.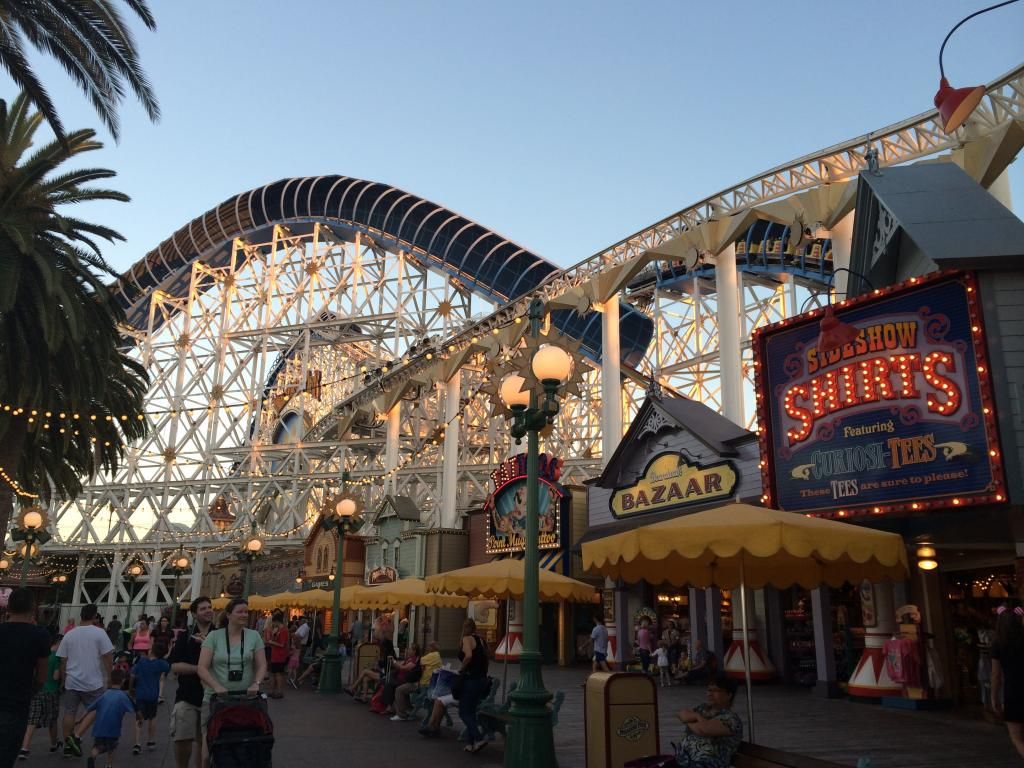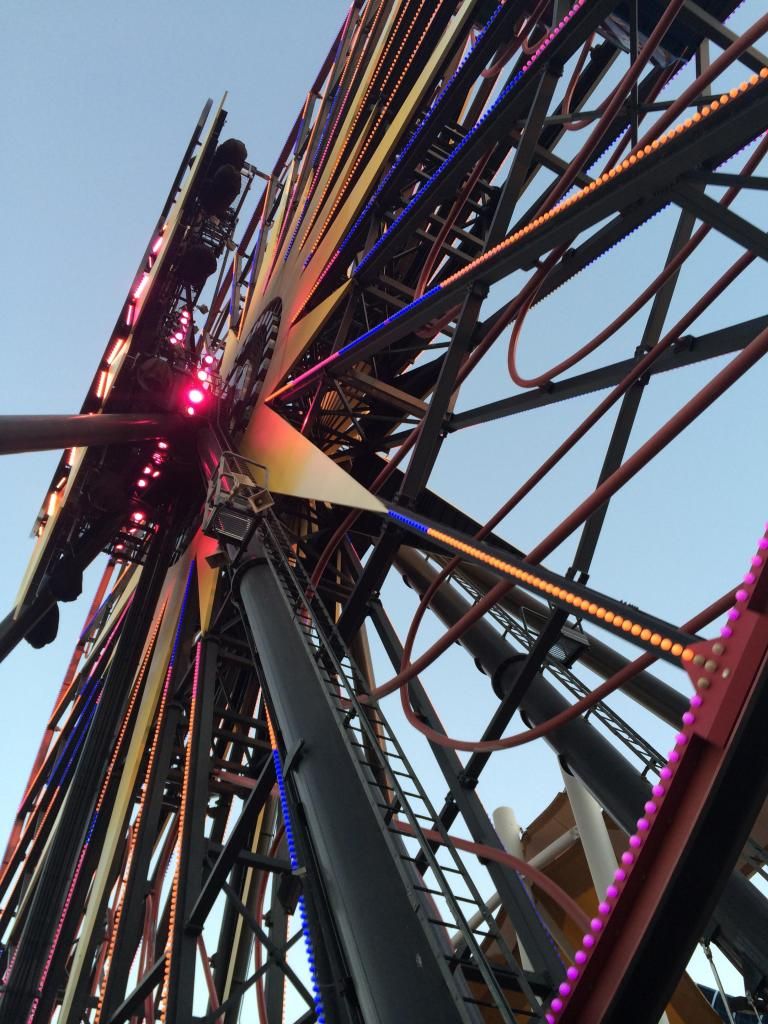 Toy Story Mania!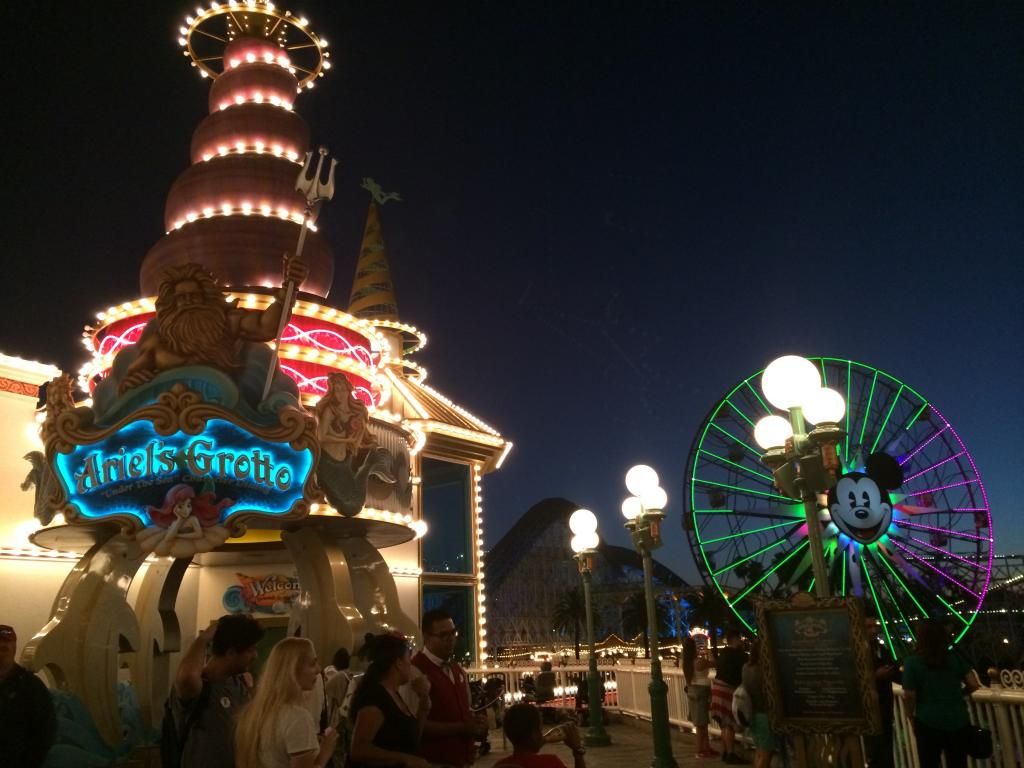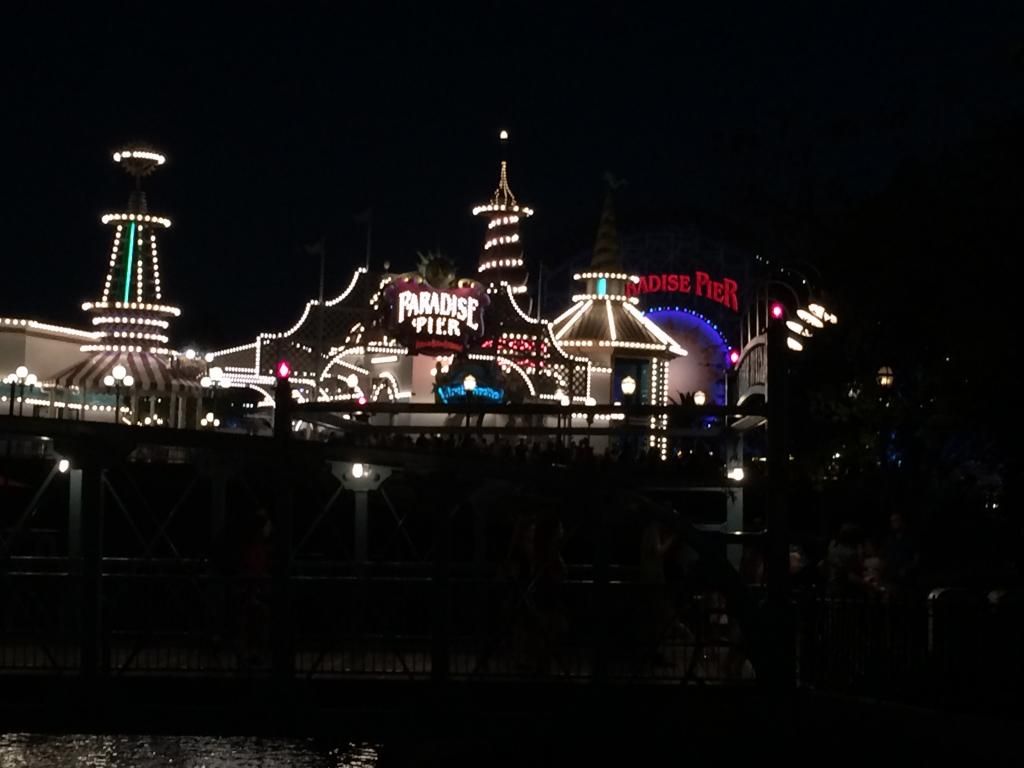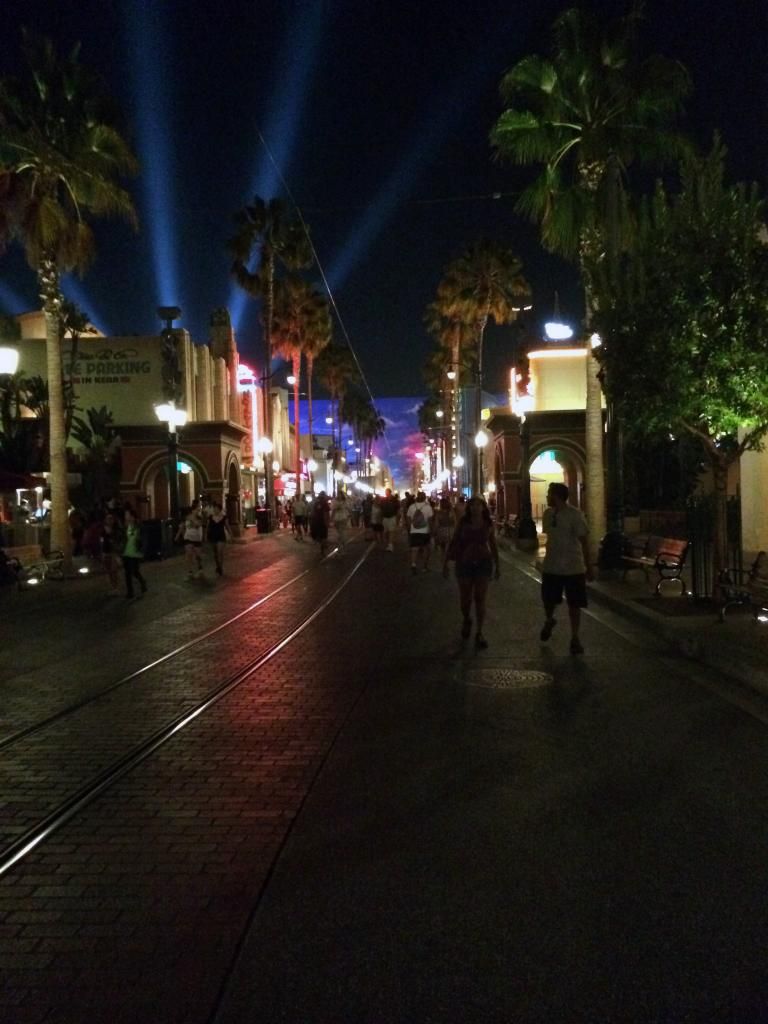 Snack machine in the Monster's Inc queue!
Dinner at Flo's V8 Diner was next! Very cool decor and theming here (notice a trend?!) and the food really was delish! I had the Spit-Fired Rotisserie Chicken with potatoes and veggies...mmmmmmm. After I was stuffed, I walked around a bit to just enjoy the nighttime lighting. It wasn't too long until I wanted to grab my spot for World of Color, which was one of my top priorities for the day. Soon it was time...I got a great spot, mostly because I was a party of one and could squeeze in pretty much anywhere! The show was absolutely amazing and I just kept saying "WOW"! I LOVED it and it was definitely in my top 5 things after the weekend was over.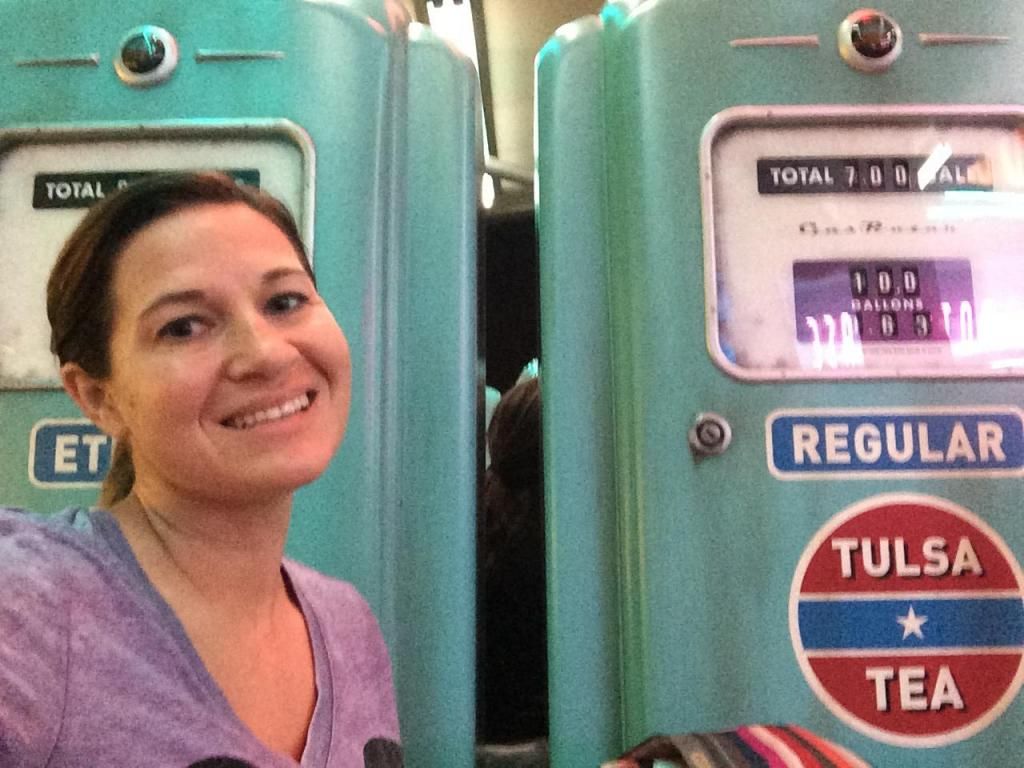 Outdoor seating at Flo's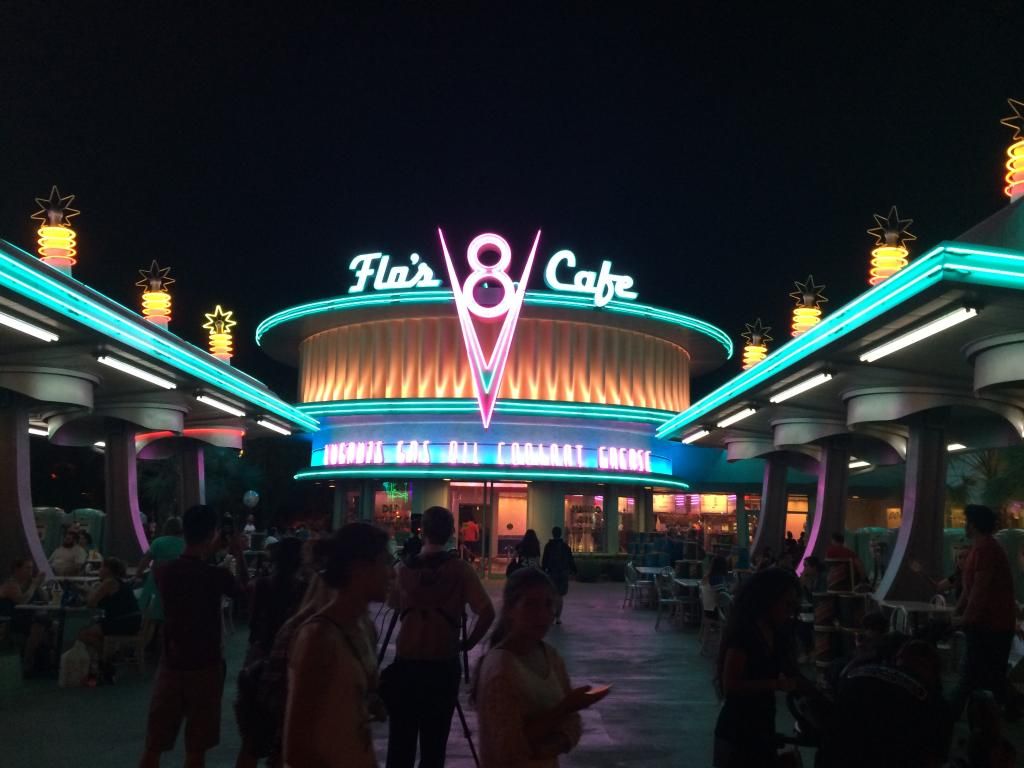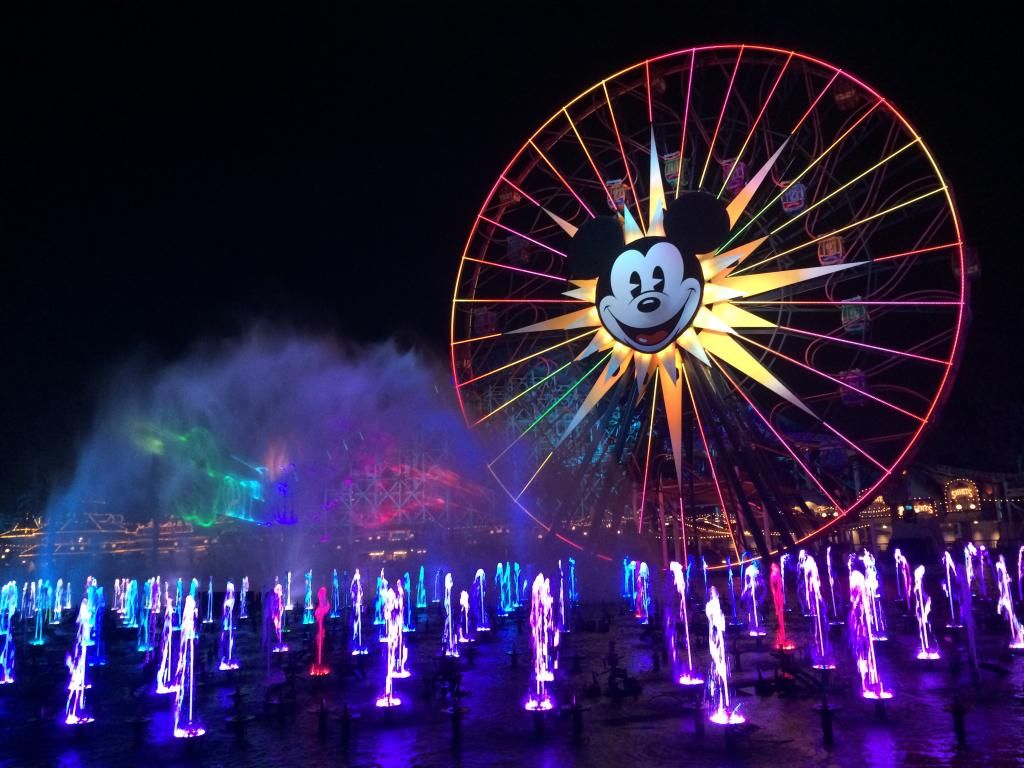 After the show!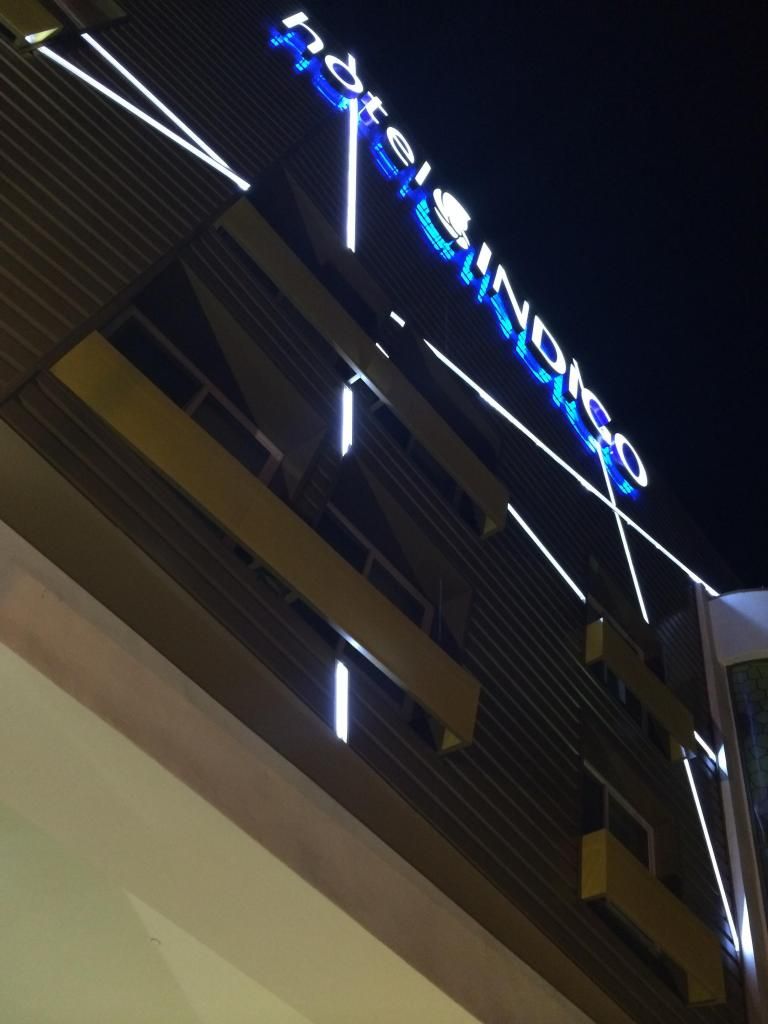 Afterward, I had a nice walk back to my hotel (with crowds, security, and good street lights!) and I was off to my comfy bed for a good night's sleep to get ready for Day 2