Well, we've been home over a week now and it already feels like the trip was a lifetime ago
This was a first for us to visit the West Coast and we had a blast! Some places we loved more than others but that's to be expected (not sure I loved LA). In case you didnt read the pre-trip, a quick summary. Me (Robyn) went with my hubby (Sy) to the West Coast. Our friend Jane came along for half the trip but left once we reached Disney. We visited San Francisco, Vegas, Disneyland, Los Angeles and Palm Springs.
If you would like to read the full pre-trip report you can find it here...
http://www.wdwforgrownups.com/forum/watsons-go-west-may-2015-pre-trip
The highs and lows can be viewed here...
http://www.wdwforgrownups.com/forum/watsons-went-west-highs-and-lows
Anyway, enough of my rabbiting on. I hope you enjoy my trip report
Day 1, Travel Day
We stayed the night at my parents house the night before for 2 reasons, 1 its closer to the airport and 2, they were having our cat stay with them rather than us having to put her in a cattery. We thought by staying over with the cat it would help get her settled in (which it did). We probably slept for about an hour though, I was on a mattress on the floor with the cat leaving Sy the single bed but he was working for hours and didn't come to bed till about 3:30am. I nagged him but he just had too much work on that he hadn't been able to get finished. He also fell up the stairs on his way up to bed and seriously hurt himself, so much so that we debated if he had broken his leg! What a start to the trip!
6:30am was soon here and it was time to get dressed and ready to go. Jane was dropped at mums by her brother while we were tiding up the spare room and covering everything that the cat might pee on
She sat with mum chatting and by 8am (ish) the car was packed up and we were ready to leave.
We were heading towards London in the morning rush hour so it took a bit longer than normal but we arrived at Heathrow T3 at about 9am. We said goodbye to mum and made her promise to look after Tink and give her lots of cuddles, we in turn promised to text her when we arrived at the condo. We headed into the terminal to check in, Virgin had something going on though it wasn't clear what, they had loads of staff milling around out the front with balloons etc. We made our way past and over to the check in desk to start the lengthy process of checking in with my scooter. While we were checking in all of a sudden Uptown Funk starts blaring and Virgin staff are all dancing in a flashmob style. Sy went to grab a picture while I was dealing with the scooter.
Check in all finished we made our way through security and off to find some food! We ended up with something from Pret. I went into Boots to grab some food for the flight as I'm a fussy cow and didn't think I would eat the plane food hehe. I also stopped in the Duty Free shop to grab some Clarins face cream that my mum asked me to get for her. It was then time to board! Off we went to the gate, the ground staff took my scooter off to be boarded and we then went onto the plane and up to the bubble (top deck).
We were surprised when we pushed back from the gate and it was so empty up on the top deck. Out of about 30 seats, there were maybe 8 of us up there! Once in the air we moved about and got comfy. We later ended up on a row of 3 each for a bit and slept, Sy and I had had such little sleep the night before it was great to be able to catch a few zzzzzz's.
While the crew were doing their in flight safety talks Jane spotted the girl in front of us trying not to laugh so she turned around and saw a guy making faces at her to try and put her off, she saw that Jane had noticed and came to apologise! We were giggling. She decided to get her own back on the guy though and told him Jane was really upset and offended and had made a complaint about it hehehehe! He came to apologise once we were in the air, Jane tried to hold her composure and pretend to be annoyed but we were soon in fits of giggles with him. All of the crew on the flight were great, really friendly and fun. I think it helps that there were so few of us up there, they took the time to chat and were generally really friendly.
Take off was smooth and I even managed to grab a pic. It was unusual for me to be in the window seat! I'm usually a bit claustrophobic but thought I would give it a go up in the bubble as there was a little shelf between me and the window. Jane nor Sy fancied the window seat (or at least that's what I thought, Sy just said he would have sat there).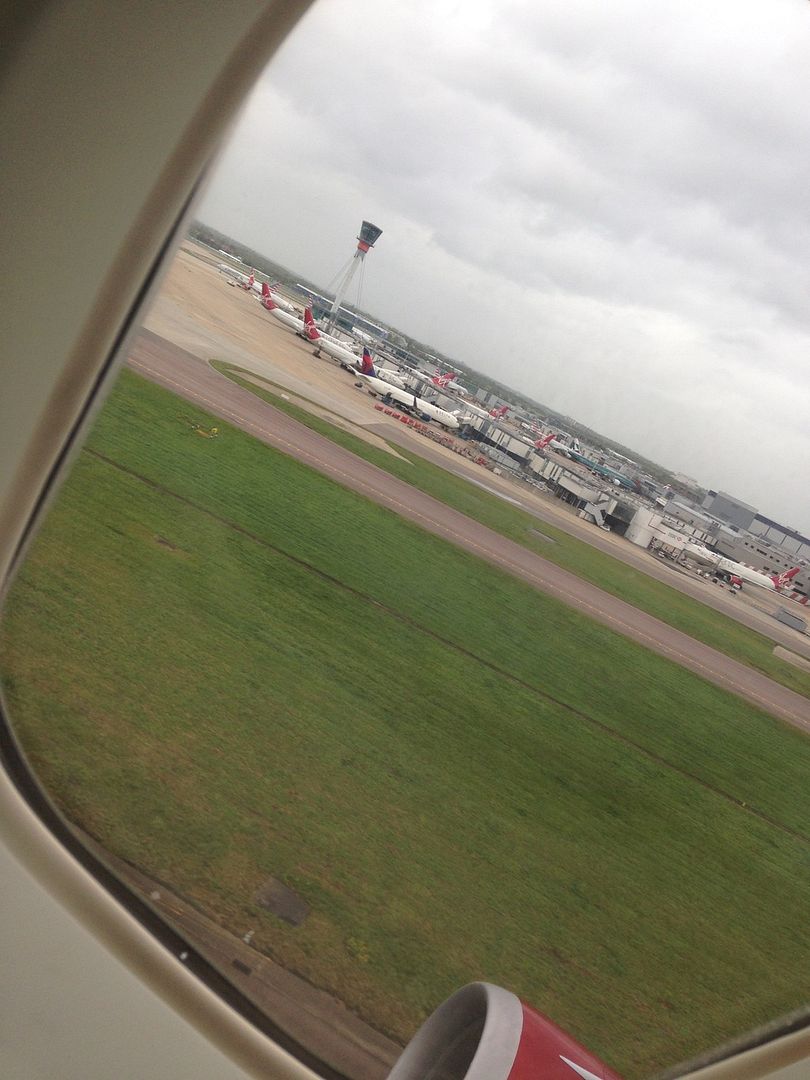 They soon came round with some drinks and pretzels, followed by lunch which I had chicken that had a tomato and cheese thing on top, it was surprisingly ok... The say cannot be said for the hot sandwich thing that they brought rounds later into the flight, BLEUGH!
(I however ate my nice sandwich from Boots).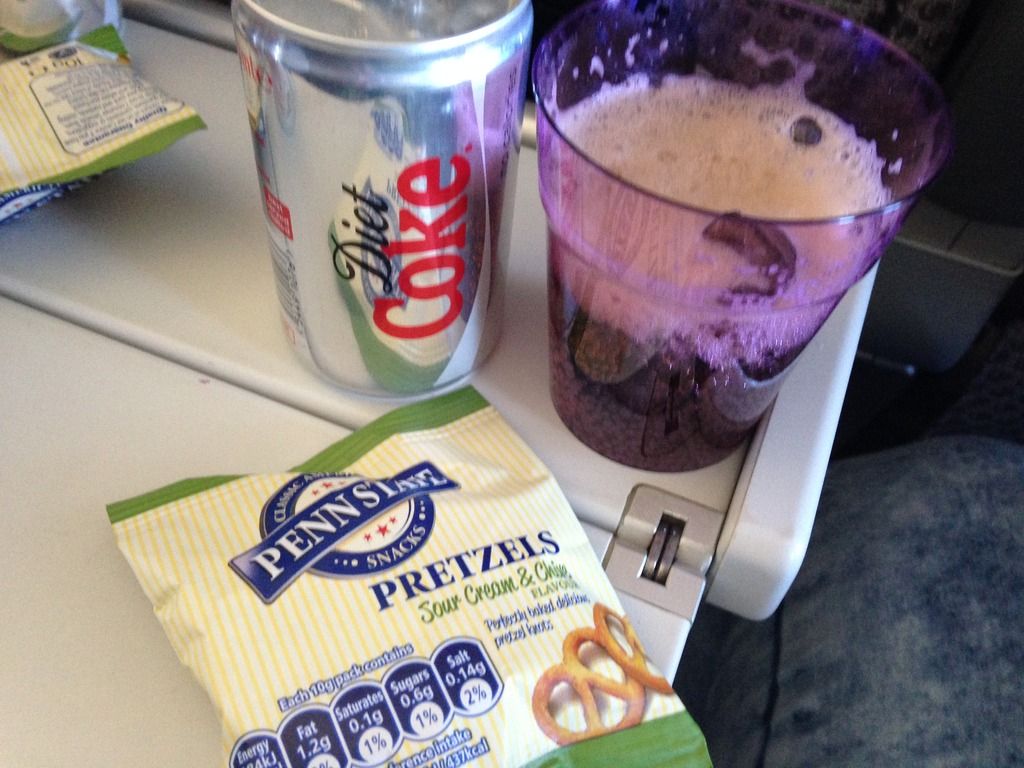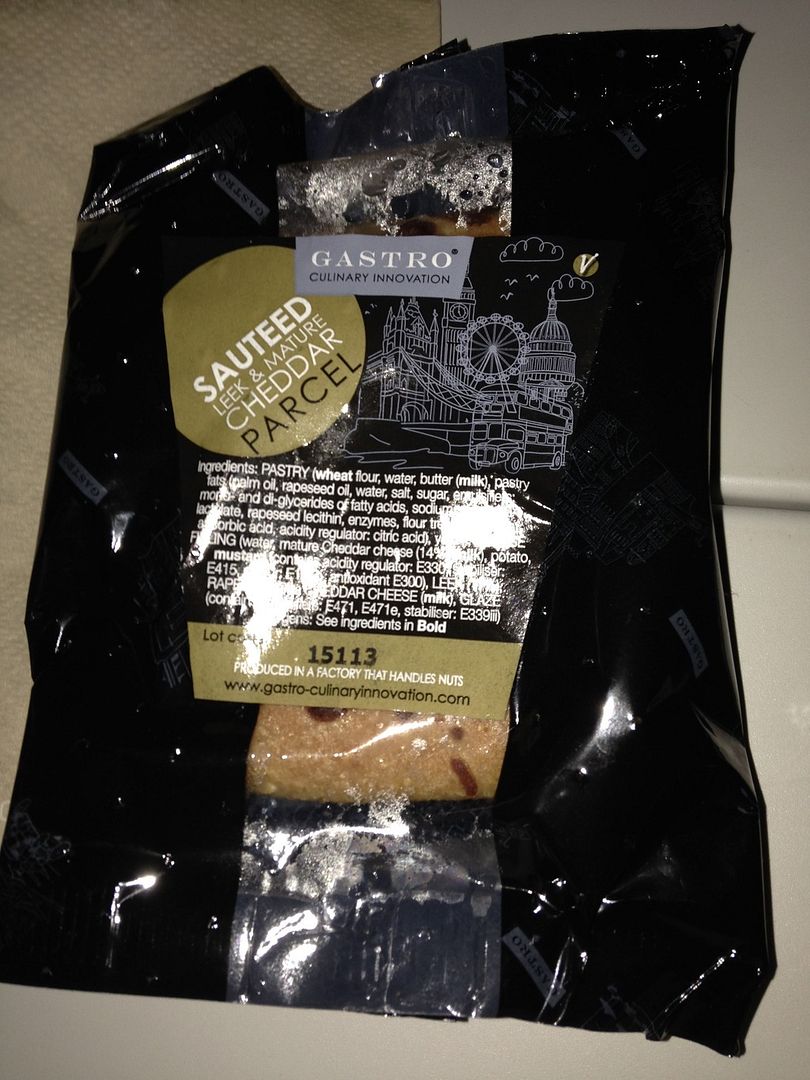 They also brought us the worlds smallest chocolate, I did debate not eating it and instead keeping it for when I wanted to feel like a giant holding it but my need for chocolate took over and it was gone in one swift chomp!
I missed out on the ice cream as I was asleep, I also missed flying over Iceland and seeing all the pretty views
booo! But Jane snapped a pic I can share with you all
How pretty?! And I missed it. Boo. While I was sleeping Jane chatted to the couple beside us on the other side of the aisle, they were on their honeymoon, stopping in SF on their way home to New Zealand. We bumped into them later in the trip.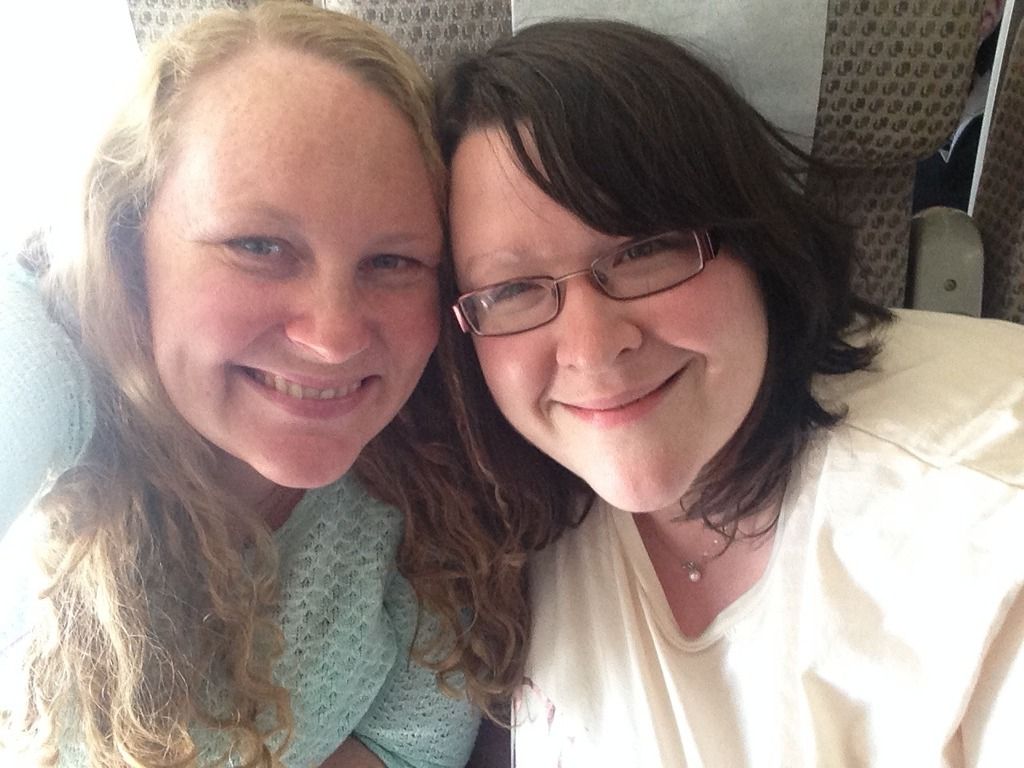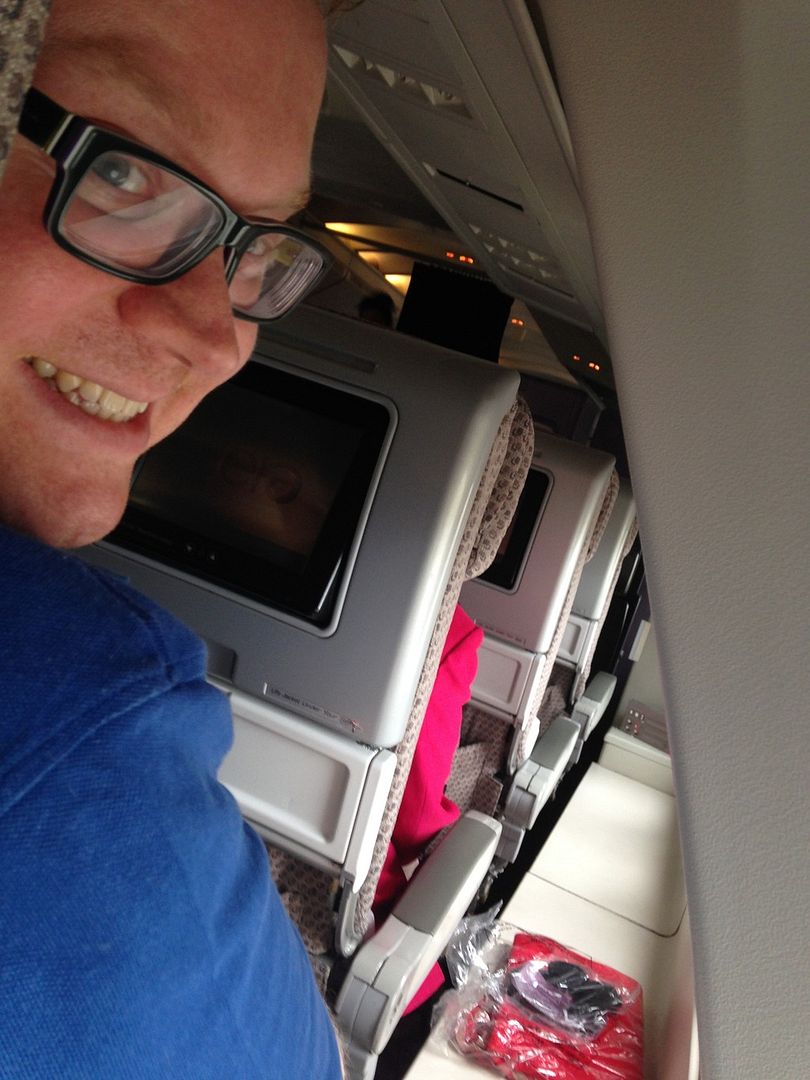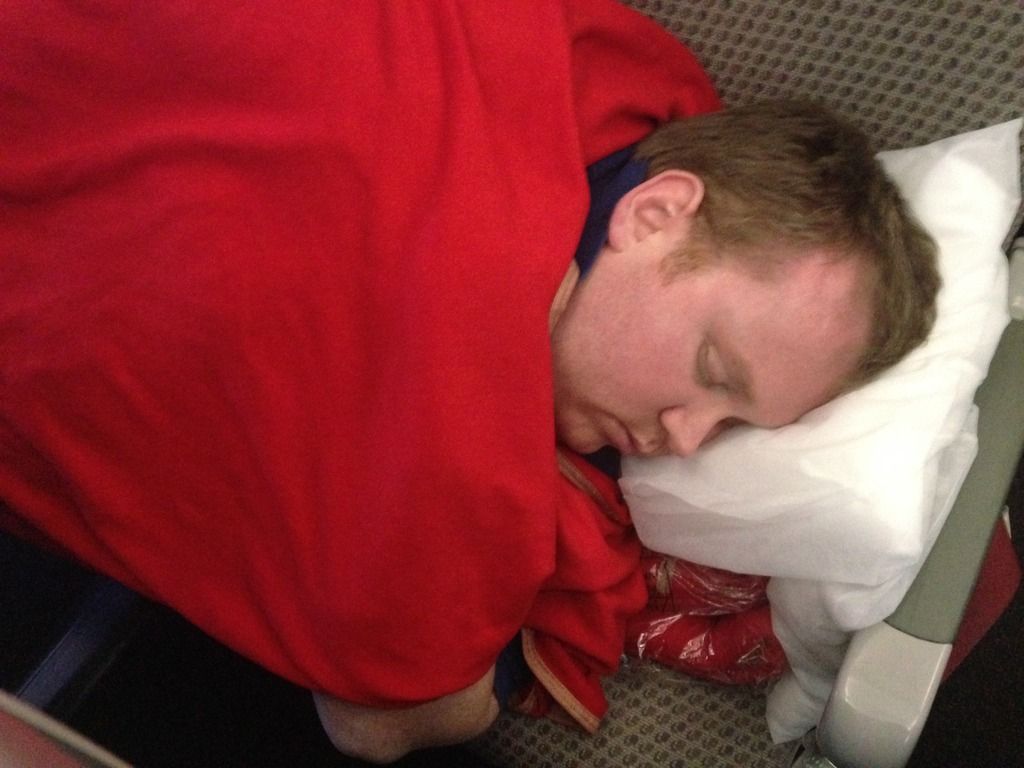 The flight passed pretty uneventfully, I slept on and off throughout most of it, watched a few films and tv, read some of my book. The flight was 11 hours long, only 2 hours longer than flying to Orlando but OMG it took FOREVER! Eventually we were starting our decent. I snapped a few pics.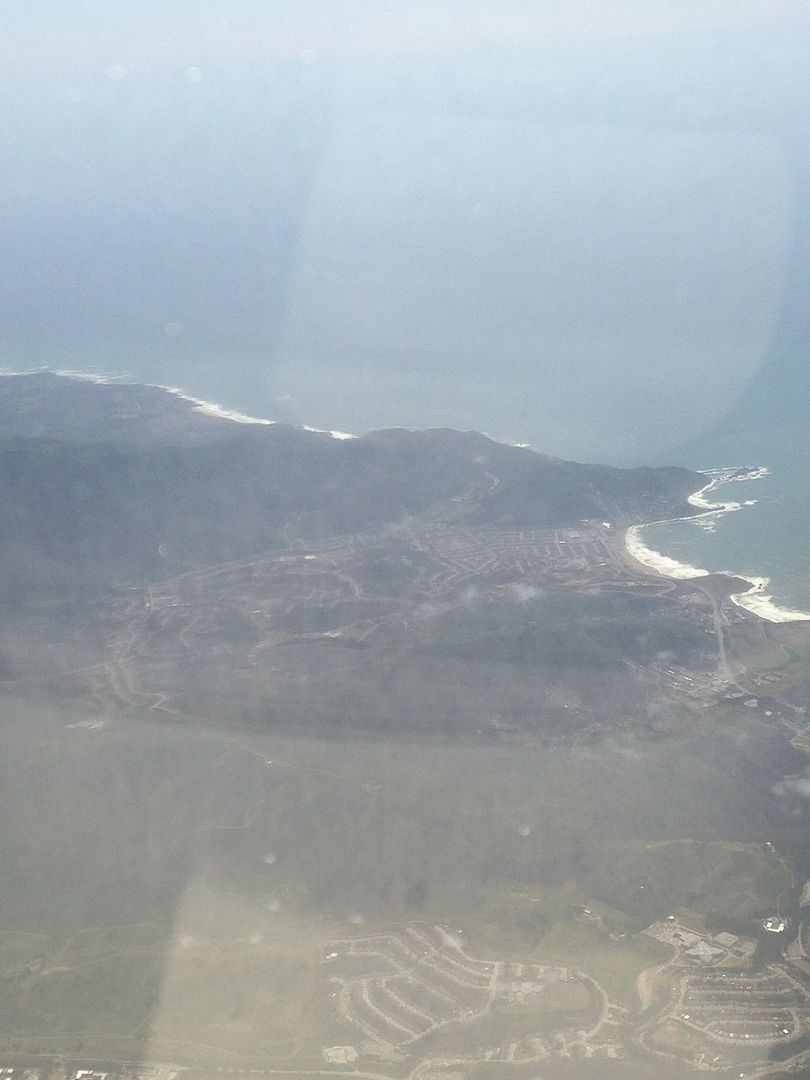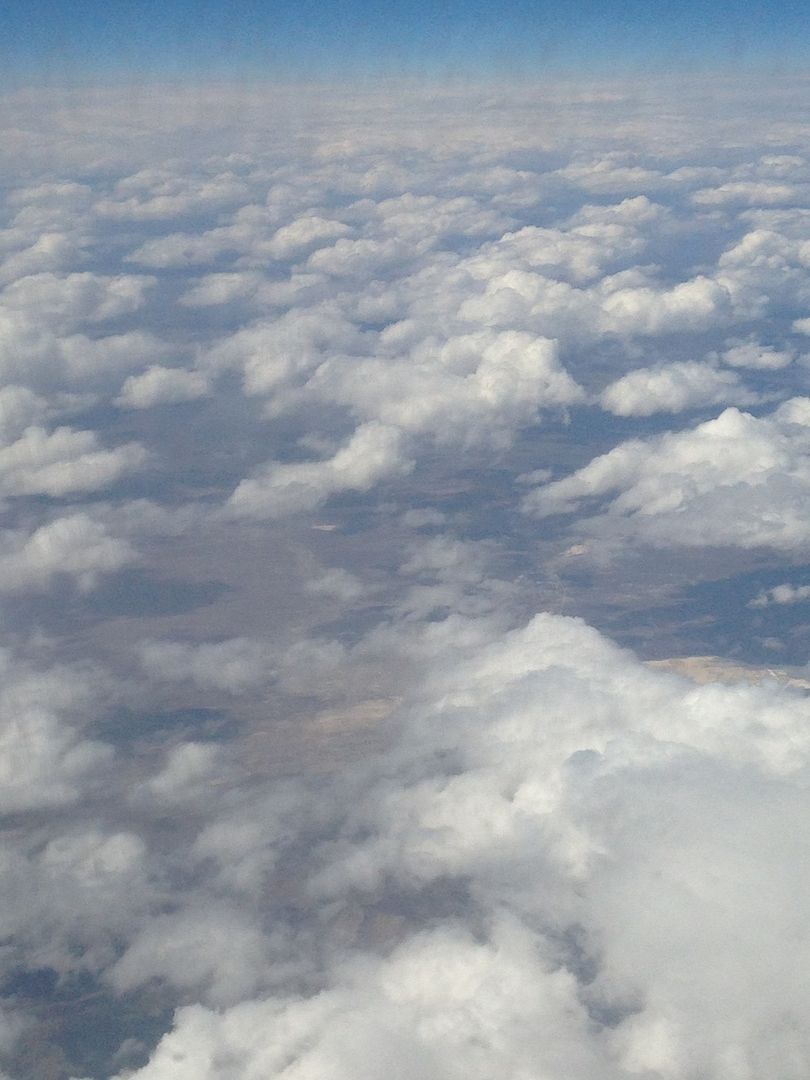 The runway was right at the edge of water so it looked like we were about to land on the sea! I had read this already so I was prepared but I think it would have made me a bit panicky otherwise.
Off the plane we waited in a mahoosive queue at immigration, we had to wait to be last of the plane and then had to wait for my scooter and then we were right at the back
no wheelchair line here like in Orlando! I guess there's not as much need for it. An hour later we were through and grabbing our luggage that had already been taken off the belt as we'd been there so long.
We made our way in search of the car rental, we had to get on a tram which went round the whole airport. We got on and realised there was a duffel bag alone with no owner, with airport security as it is we were really nervous and got off at the next stop - such drama queens that we are! But we didn't want to take the chance. The other people on there didn't get off but moved right up to the other end of the tram. We tried to find someone to tell them about the bag but there was no one in sight. We hopped on the next tram and got to the car rental without being blown up so we were happy lol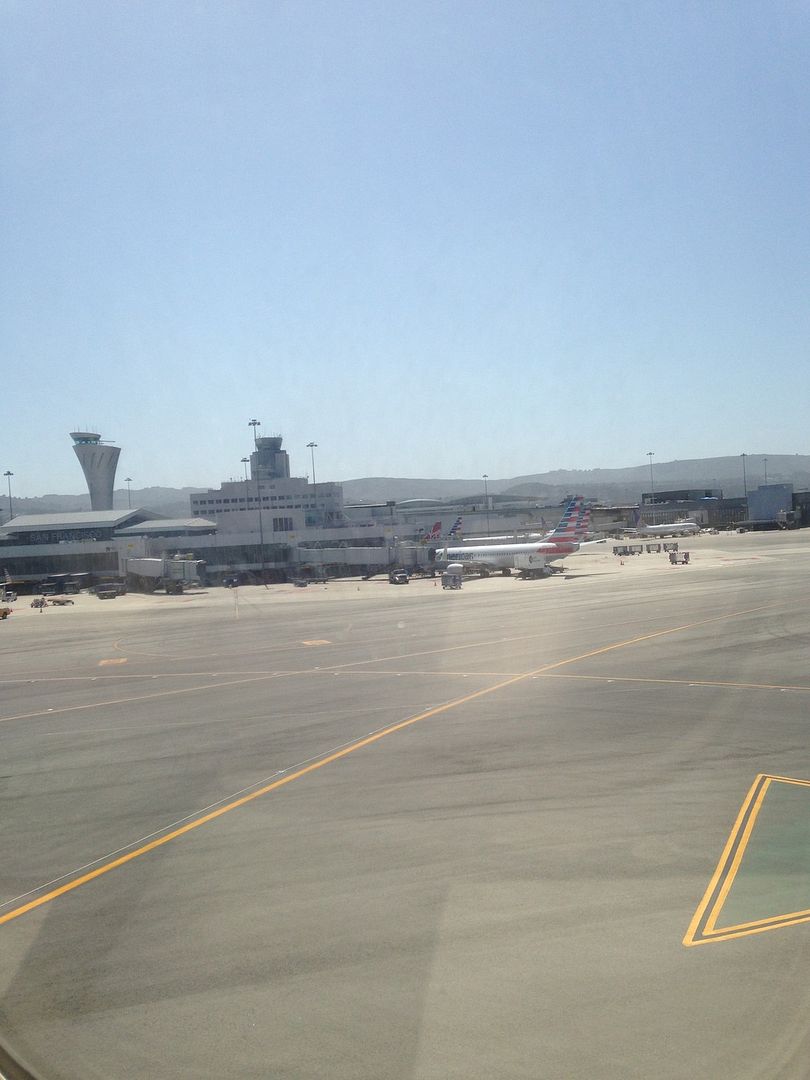 Sy chose a black car (dodge he says), we loaded up the bags and off we went! I had downloaded Navmii for my ipad so knew which way to direct Sy and we arrived at the condo about 30-45 mins later (would have been quicker without traffic). Jane commented on how good Sy was at driving after such a long flight and on the other side of the road, and how well I was directing him. That peace didn't last long though hehehe.
We drove along the sea and we found the condo was just 2 blocks from it! Squee! It was so pretty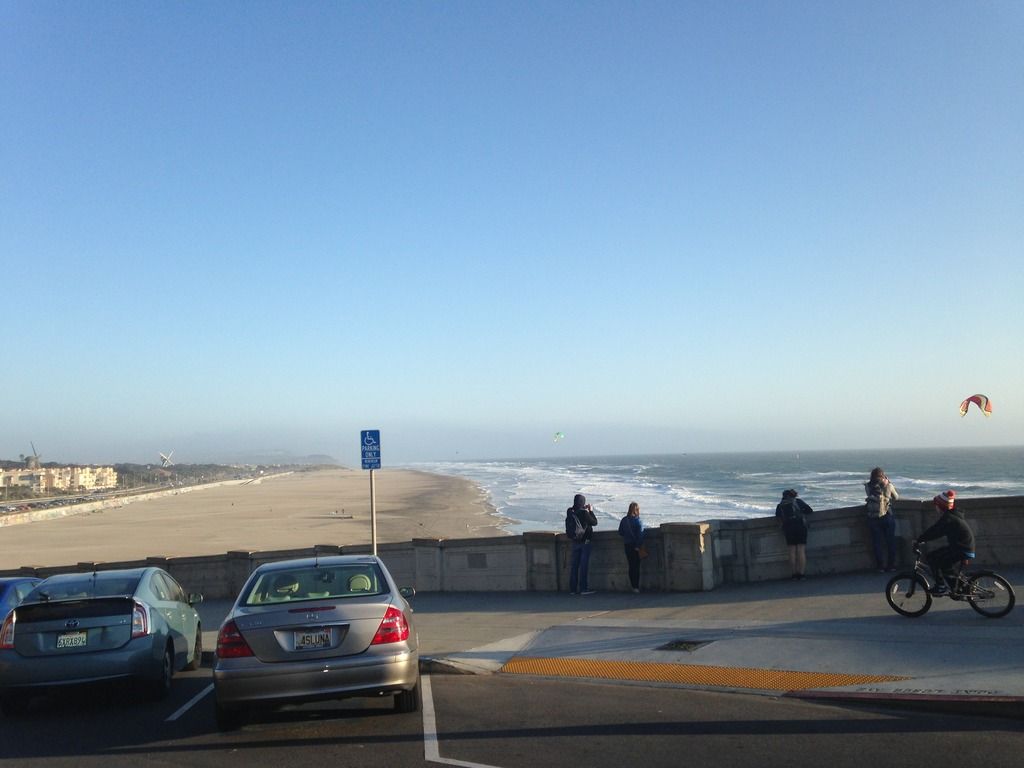 The condo was beautiful, as is often the case you see a place in pictures and while it does still look like the pictures its not usually quite as pretty on closer inspection, well this condo breaks the mould! It was even more beautiful in real life!!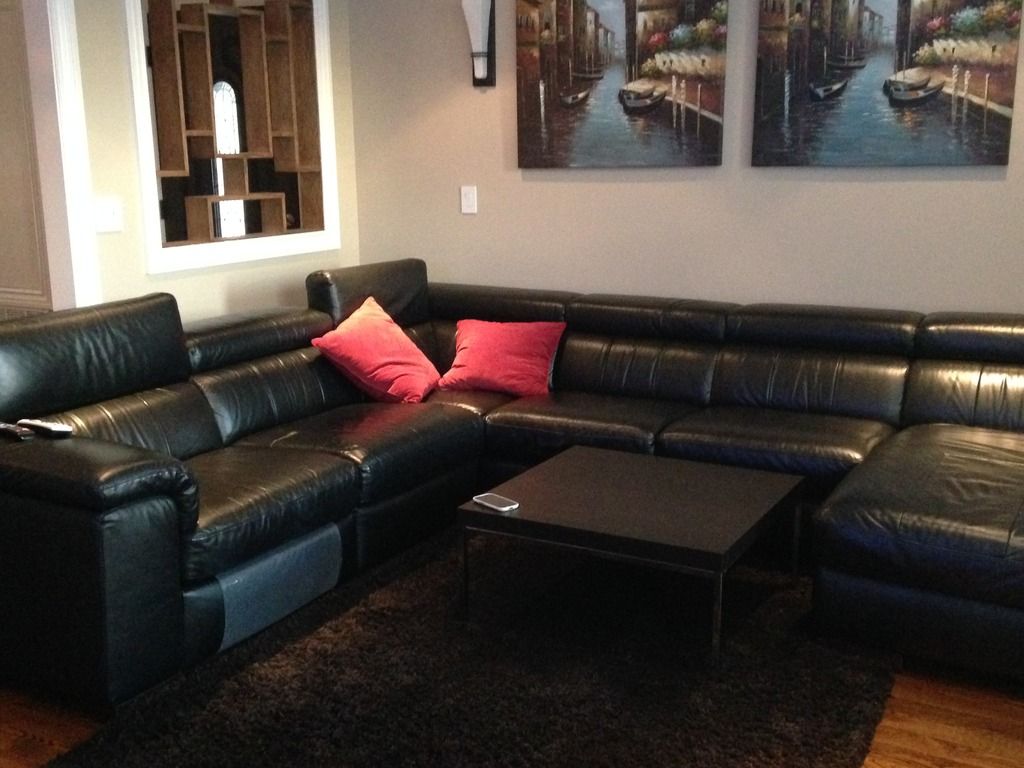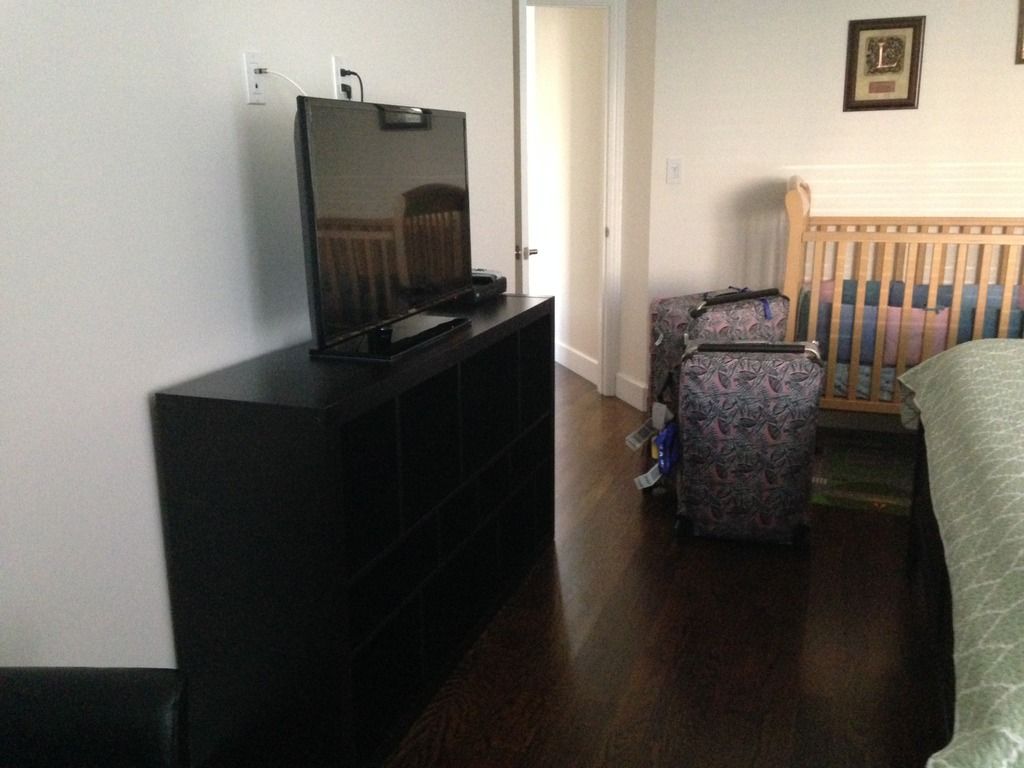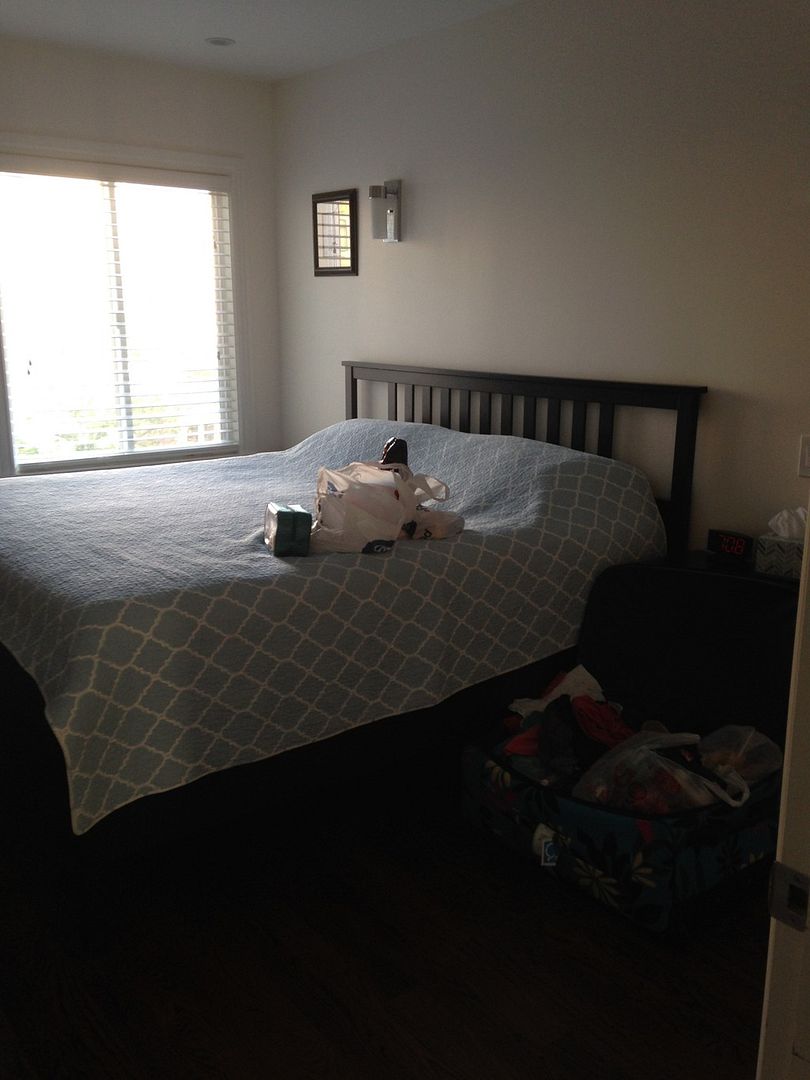 We unpacked and showered and went in search of some food. We first stopped at the supermarket to get some drinks and snacks before going for an explore. We were going round in circles a little bit and ended up deciding to get take away so we came back to the condo. Sy found somewhere online but then found out they didn't deliver and he wasn't sure about going out again. After a a bit of deliberation he ended up going back to the supermarket and grabbing some cooked chicken and potato wedges which we ate in front of the tv while we fought to stay awake.
When we could stay awake no more, we accepted the inevitable and crashed into a deep sleep at about 9:30pm, 5:30am UK time.
__________________
Our Very Merry 24 nighter Nov/Dec 15
Watson's go West May 15
The one with all the birthdays Oct 14 4 Big Birthdays and a Vow Renewal thrown in
The OMG trip June 14 30th Birthday present from the hubs
Girly trip March 14 A last min cheapy week
September 13 our first all DVC stay
TR May 2013 the last min bargain trip offsite
Oct 2012 TR with a cruise!big family trip featuring the beach club, AKL, the dream and a villa offsite
TR on a budget May - June 2011offsite condo
TR Sept - Oct 2010 big family trip in an offsite villa