An Introduction
Hello and Welcome to my Pre-Trip report, I know what you're thinking 'hold on, haven't I just read a trip report by RobynPrincess?' Yes you have, no sooner have I finished one report then I'm onto the next!
I can't quite believe that I am one of 'those people' who has actually managed to bag 2 trips in 1 year! And this will be the 3rd trip in one 12 month period! How did I ever get so lucky?! This is certainly what you call making use of the annual pass
Who needs savings anyway
Have no fear, I'm still going to introduce us in case you haven't read my many other trip reports (and why not?
).
I'll start with meeee, Robyn aka Princess - obviously have *no* idea how I got that nickname... I might be a little fussy and particular about stuff but hey, I know what I like
29 years young on Tuesday. I'm a huge princess fan, I don't think I could choose a favourite but I grew up watching the Little Mermaid, it was the first film I saw in the cinema and I guess you could say I was hooked from then onwards. My favourite character is Tinkerbell. I'm pretty damn fussy about food, I have ulcerative colitis and so I have a special diet anyway and on top of that I'm plain fussy
expect lots of food pictures from me, but don't expect to see anything else apart from chicken on my plate! I'm a keen seamstress though I'm still learning, you will probably see a few of my creations in the report.
Next up, the peaches to my cream, the dole to my whip, the Beast to my Beauty... yeah right
My lovely hubby Simon or Sy. He will be 31 just before we go. He is so laid back he's almost horizontal (he'd have to be with me!), he's happy to go along with anything that I plan (yay!), he will eat pretty much any food - the total opposite to me then. He likes the details in Disney, he loved the keys to the kingdom tour as he found out more behind the scenes stuff, his dream job would be a Disney imagineer working in design. His first trip was on our honeymoon (his choice) and we have been back 4 times since, this will be the 5th trip. I have kinda lost count on my trips, I think its 12.
And here we are on our last trip
Sy took me to DLP on New Year's Eve when we had been together 3 months and as the fireworks went up he got down on one knee on a very busy main street and asked me to marry him, the rest as they say is history.
There will also be another couple featured hopefully quite heavily in our trip report; they are of course Hayley and Gareth
We spent some time on our last trip with them as our trips overlapped and we had a great time so cant wait to spend some more time with them on this trip!
I have gotta include this picture of Sy and Gareth taken in May, I laugh every time I look at it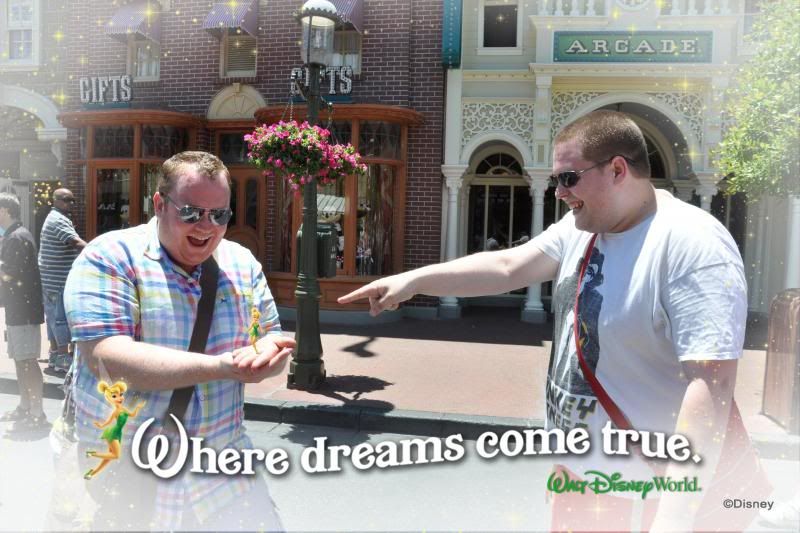 And here is one of us all together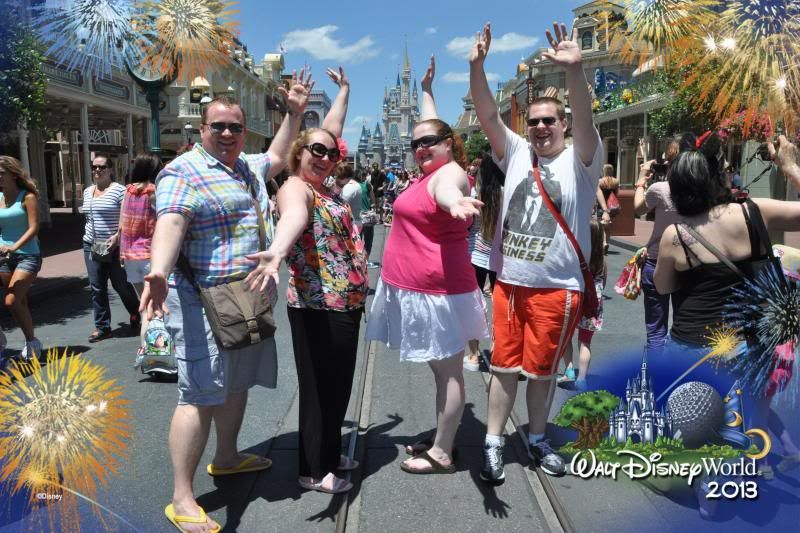 So anyway, you could say that we have seriously been bitten by the Florida bug, so much so as now we are in the process of buying our first DVC contract! Eeeeeeeeeeeee! We took a tour a couple of years ago to find out more about it, we went away seriously shocked at the cost, and as we had never stayed onsite we thought it was a huge waste of money. We then stayed onsite for a week in a normal hotel room and then did 2 nights in AKL in a 2 bed villa. Wow! We were so in love but still didn't think we could justify the cost. We then went back this year and stayed offsite again (as it was a bargain bonus trip) but spent a lot of time with Hayley & Gareth and Matt & Sue at their room in BLT, our holiday was so different. It was so much more relaxed, no up at dawn and there till the last moment to make the most of the day, we dipped in and out of the parks and popped back to theirs with them. We were sold! We did another DVC tour while we were over there and decided to buy a resale contract as the cost for AKL was literally half the price of direct from Disney. I can't wait till we can officially say 'We own a little bit of Disney!' We even snapped this pic on our last trip once we had decided to buy.
__________________
Our Very Merry 24 nighter Nov/Dec 15
Watson's go West May 15
The one with all the birthdays Oct 14 4 Big Birthdays and a Vow Renewal thrown in
The OMG trip June 14 30th Birthday present from the hubs
Girly trip March 14 A last min cheapy week
September 13 our first all DVC stay
TR May 2013 the last min bargain trip offsite
Oct 2012 TR with a cruise!big family trip featuring the beach club, AKL, the dream and a villa offsite
TR on a budget May - June 2011offsite condo
TR Sept - Oct 2010 big family trip in an offsite villa